Past Weddings
The following section is the beginning of a historic record of the weddings at Valley Grove. Please help us make this section grow. Submit your wedding at Valley Grove photo with names, date and a short description of the event.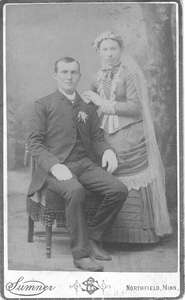 May 13, 1885
Karine Engeseth was born Jan. 23, 1895, a daughter of Erick & Gjore (Holland) Engeseth, who were then living near the present family home in the southwest corner of Bridgewater township. She was baptized by the pioneer pastor Rev. B.J. Muus, founder of St Olaf College. On May 13, 1885 she married Albert Mohn in the Valley Grove church. They were married by the Rev. N.A. Quammen, another well-known pioneer pastor. The couple had nine children.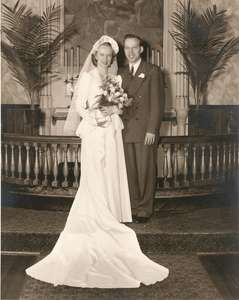 October 12, 1947
Dorothy Margaret Severson of Nerstrand and William Albert Jarvey of Eveleth were joined in marriage on October 12, 1947 at the Valley Grove Church. They remember that it was a beautiful day. The reception was held at the Severson family farm in Nerstrand. Attendants were Marion Jarvey, Hazel Severson Mummah, John Peterson, and Robert Kneebone.
Bill and Dorothy currently reside in Plymouth, Minnesota.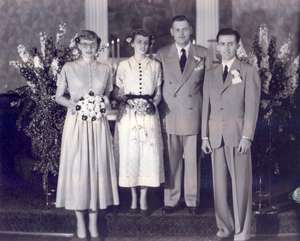 June 30, 1952
June 30, 1952 Wedding of Marilyn Groff and Robert Zielke. Left to right Marlys Groff, Marilyn Groff, Robert Zielke and Roger Corrigan. Roger was Bob's best friend from Air Force days in India WW II. 24th Combat Mapping Squadron.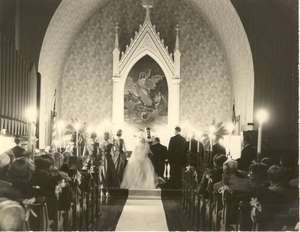 April 11, 1955
Our wedding took place on Easter Monday April 11, 1955. It was a beautiful day, temperature about 78 consequently many potholes in those country roads. Two pastors officiated at our wedding: Pastor Tom Rossing who was pastor of the church at the time and pastor H.B. Hanson of St. Olaf College.
The reception was held after the ceremony in the Stone Church which we decorated. The Valley Groves Ladies Aid served the food. I'm surprised my mother, Ruby Hellerud, could stay out of the kitchen for the occasion! I was baptized, confirmed and married there so I have many good memories of Valley Grove. Shirley Hellerud Johnson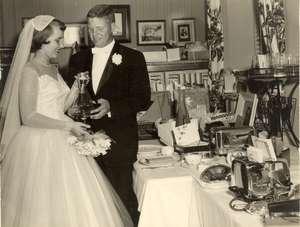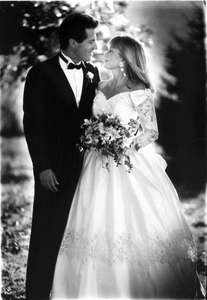 October 3, 1992
Writer Karin Winegar and actor/director Peter Moore were married at Valley Grove on a warm, sunny afternoon October 3, 1992.
Read her description of the event here on the Valley Grove website; it was this essay,
"A Plain and Moving Beauty Worth Saving," published on the Minneapolis Star Tribune editorial page in 2000 that helped draw public attention to the imperiled beauty of Valley Grove and contributed to saving this precious historic place.
Photo by Judy Olausen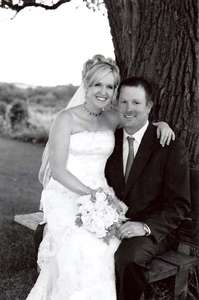 August 4, 2006
Mary Hansen and Dan Webb: It was a perfect summer day! Most importantly we were able to have our family and friends there to help us celebrate. The beautiful countryside and church made for many memorable pictures. Thank for being a part of our special day.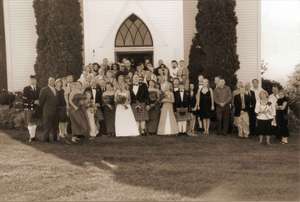 Setpember 16, 2006
September 23, 2006
Ingrid Lindstrom and Steven Henry: Our ceremony was outside the white church with two oaks as a background. Miraculously, the rain lifted until we were indoors. With the day's soft glow, the periwinkle hydrangeas, our friends' music, our personal vows, and our escape to a horse-drawn carriage through a shower of hydrangea petals, nothing could have better expressed our love.
"I expect to pass through this world but once. Any good, therefore, that I can do, or any kindness that I show…let me do it now…for I shall not pass this way again." -Unknown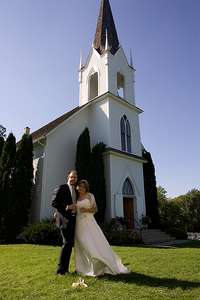 September 1, 2007
Nina Clark and Michael Lansing:
We were lucky enough to have a gorgeous day–sunny, but not too warm, with a refreshing breeze. Family and friends decorated the inside of the clapboard church with wildflowers while other guests wandered around the churchyard and the colorful, late summer prairie. Everyone was entranced by the picturesque views. Then we gathered inside for a short ceremony. At the end, we rang the bell. After thanking the many people who came from across the country (and even from Sweden), we enjoyed homemade cookies in the stone church. It was fantastic.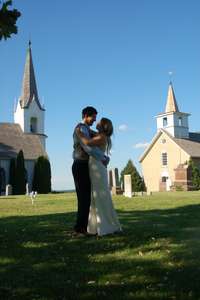 June 21, 2008
William Palmieri and Elizabeth Braaten were married on June 21st, 2008, the summer solstice.
"We were married in the white church with Pastor Stephen Swanson officiating. We had a very traditional service, we sang hymns, my brother played guitar and sang a Bob Dylan tune, while my 8 year old nephew serenaded us down the isle with his accordion. We then formed our greeting line in the beautiful sun as our guests enjoyed bluegrass music, horse drawn wagon rides through the prairie and hors d'oeuvres and punch in the revamped stone church. Later we had a buffet dinner under a tent in the grass: a hog roast served with local, organic greens, breads etc."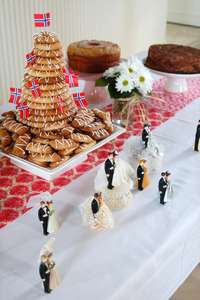 We had a country social style cake cutting of multiple cakes made by friends and family including a traditional norwegian wedding cake called Kransekake. We concluded with a dance in the stone church and late night smoked salmon sandwiches.
Our gifts to our guests were small, individual honey jars with our logo "tandem bicycle" letter pressed on the tag. The honey was also local- from Homestead Honey in Sogn Valley.
Valley Grove was the perfect setting for our perfect day! Thank you for keeping this place beautiful!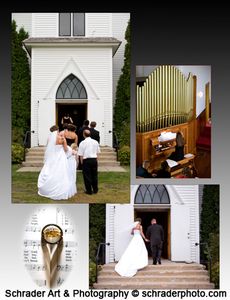 September 27, 2008
Mindy May and Belden Hope Wedding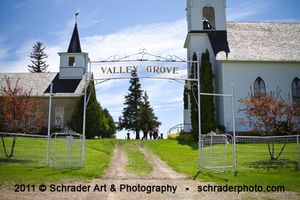 May 21, 2011
Carol Hawkins and Chris Schultz Wedding